Virtual Camp
Mohawk Day Camp is all about good times and FUN! As we continue to plan for another GREAT summer, we think we can all use a little fun NOW to give our campers something to look forward to! So we've created Virtual Mohawk Day Camp – an opportunity to play games, participate in activities, virtually visit the camp, and more!
How can my camper participate in Virtual Mohawk Day Camp?
Like and Follow Mohawk Day Camp on Facebook and Instagram.
At the designated date and time, have your camper(s) join us by using any device that can connect to the internet (computer, iPad, mobile phone, etc.) using the provided weblink (found below) at the designated date & time.
Enjoy the fun!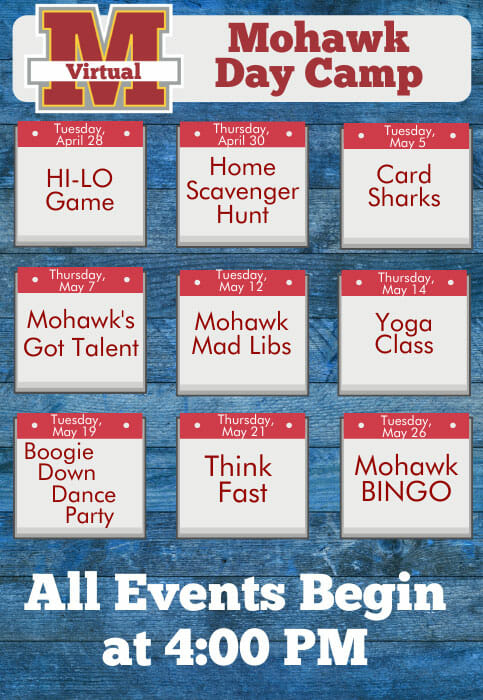 INSTRUCTIONS:
Using any device that connects to the internet, join us at 4:00 PM on the respective dates using the unique event links below.  Events will be hosted by Camp Director Adam Wallach and his son Jacob unless otherwise noted. We'll see you there!
PASSWORD for all Zoom Events:   summer2020
HI-LO Game – Join us for Mohawk Day Camp's version of "The Price is Right." You're the game show contestant and you will need to guess if the price of each item is higher or lower. Just like the show, you'll win some fabulous prizes (but it probably won't be a new car)!
HOME SCAVENGER HUNT – Join us online for a classic scavenger hunt in the comfort of your own home. You'll be able to see camp friends LIVE as we have you running all-around your home to find everyday items. Let's see which camper can find it first!
CARD SHARKS – Your game show hosts, Adam and Jake Wallach, will re-create this exciting t.v. show in the Mohawk Kid's Lounge. Contestants will compete for control of a row of oversized playing cards by answering questions posed by the hosts and then guessing if the next card is higher or lower in value than the previous one. Winners will receive some fabulous Mohawk swag!
MOHAWK'S GOT TALENT – Get ready for the world premiere of Mohawk Day Camp's virtual camper talent show! If you're ready to share your talents on the big (computer) screen, come prepared with a 1-2 minute showcase for the rest of us to enjoy. Sing, dance, lip-sync, play an instrument or share some jokes – whatever your talent is, we'd love to see it! Feel free to join as a member of the audience if you'd prefer to cheer the others on. Everyone is a STAR at Mohawk Day Camp!
MOHAWK MAD LIBS  – We've created a funny Mohawk story, but it isn't quite finished and Adam needs your help to fill in the blanks. The final story is bound to be hysterical. We had so much fun the first time, we know you won't want to miss the fun!
BOOGIE DOWN DANCE PARTY – Join us online as we play some party-poppin' tunes to show us your dance moves and we'll even teach you a few new dance moves of our own! You'll be able to see your camp friends LIVE as we all get down and boogie!
THINK FAST! – Adam and Jake will channel their inner Jimmy Fallon by asking participants random questions and they need to say the first thing that comes to their heads. There are no right or wrong answers, just silliness and fun!
YOGA WITH HEATHERLYN – Open to yogis of all ages, Heatherlyn will guide you through yoga poses, breathing, and relaxation exercises to help you cultivate a calm mind, increase strength and flexibility, and improve your concentration. No experience necessary.