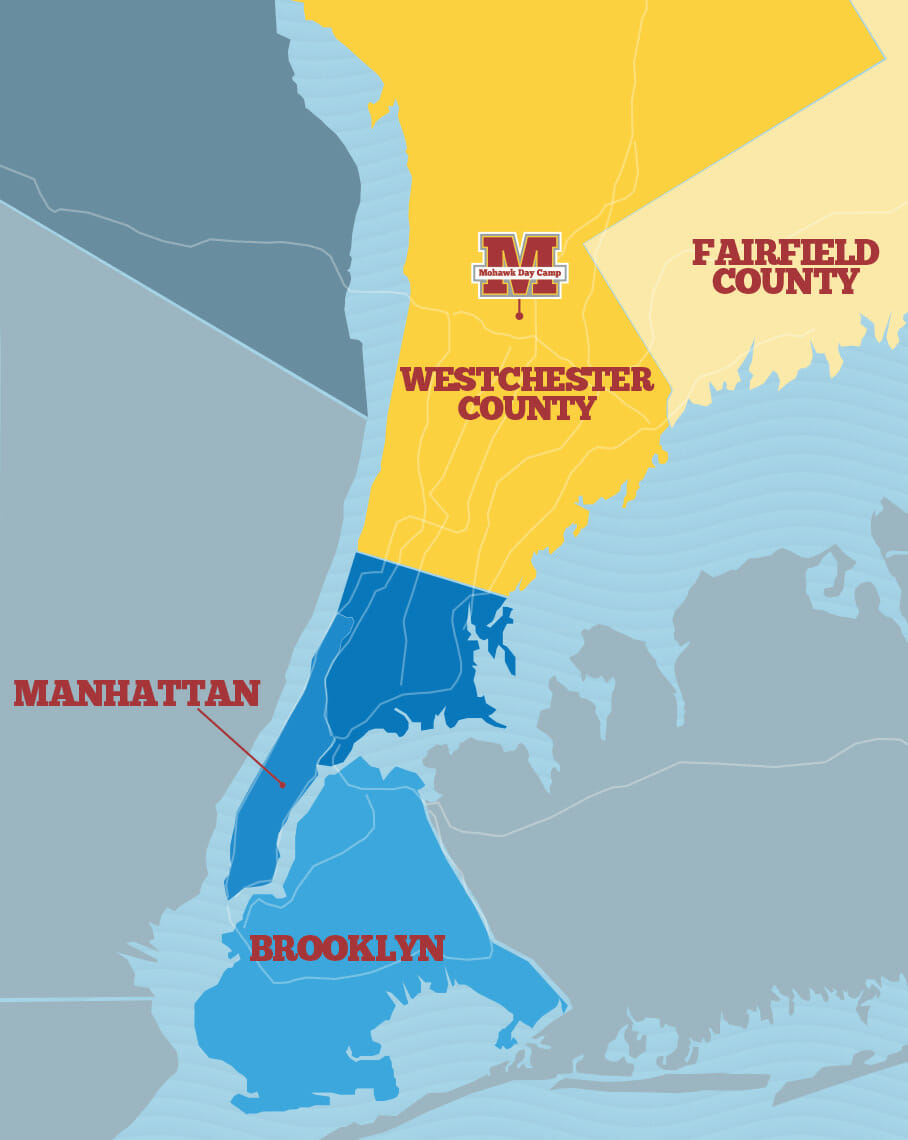 Mohawk provides convenient door-to-door and neighborhood-stop transportation service throughout much of Westchester County and Greenwich, CT.
Families located in Manhattan will utilize convenient express-stop locations that are typically within five blocks of your residence. This affords you a more reliable pick-up and drop-off time, and your camper with the quickest and most efficient route possible.
Campers living in Brooklyn are picked up and dropped off at convenient locations close to home, with a concentration of routes typically in Cobble Hill, Brooklyn Heights, Greenpoint, and Williamsburg.
COVID-19 Response
Our Safety Plan & Operating Playbook helped us provide campers with a safe, 100% COVID-FREE, amazingly fun, and memorable summer 2020 under the most challenging circumstances. We learned a great deal and established "best practices" for safety protocols, all of which should help you feel comfortable that your camper will be joining us for a safe camp season.
A tremendous effort of research and medical input went into the creation of our Safety Plan & Operating Playbook. While we may need to adjust the plan to meet recommended guidelines and requirements once they are announced for summer 2021, our plan currently exceeds recommendations by the Center for Disease Control, the American Camp Association, and those published by several other states. Some pieces of the camp program may look different this summer, but it will still be an amazing camp experience!
To once again ensure camper safety and mitigate the risk for quarantine, the following modifications will likely be necessary:
• Total bus capacity will be reduced.
• Campers will have assigned seats
• Campers may only share a seat with siblings or campers from the same pod.
• All campers and staff will be required to wear face coverings on the bus.
• Full-sized buses will be used whenever possible to increase social distancing.
NYC/Brooklyn
In New York City and Brooklyn, full-sized buses will provide central pick-up with bus stops a short walk from families' homes.
Westchester/CT
This summer, we will utilize full-sized buses whenever possible for both door-to-door and neighborhood-stop bus transportation. If a full-sized bus cannot access certain streets then a neighborhood bus stop may be required. A full-sized bus provides the safest environment for campers to minimize the risk of exposure based on Westchester Department of Health's current guidelines.
Parent Transportation
We recognize that many families are interested in continuing to provide their own transportation to and from camp. While we appreciate that this is not the most convenient option, it does significantly reduce your child's risk of a quarantine. Morning drop-off will be available beginning at 8:40 am and afternoon pick-up until 4 pm. Specific windows of time will be assigned to each family to promote staggered arrivals and departures.
Extended Care
AM Care: 8 am – 9 am
PM Care: 4 pm – 5:30pm
Mohawk will continue to offer extended care for an additional fee this summer. Current guidelines require campers to remain with the same consistent campers and staff at all times. These guidelines will require a dedicated staff member from each pod to remain before and after camp with those campers in the extended care program.
AM Care or PM Care: $50/week per family
AM and PM Care: $80/week per family
New for Summer 2021
We know that life gets busy and every extra minute is helpful. Only Mohawk Day Camp offers New York City families the unique opportunity to access your camper's bus on GPS so that you know if it is running late due to unforeseen traffic conditions.
What Parents Want To Know

What Campers Want To Know